A Quarterly Newsletter From the Caswell County Parish
"Alone we can do so little.  Together we can do so much."   Helen Keller
Pantry Addition is Complete!
After several months,  during which winter weather and backlogged orders delayed construction, our pantry addition is complete and is housing our freezers and coolers as well as fresh produce and shelf-stable foods. Having a modern electrical system to carry the load for all the equipment needed for preserving food is a great blessing.  The Parish is deeply grateful to the Cannon Foundation,  the Danville Regional Foundation that gave the Parish the Ashby Award (and $50,000), and the Caswell community at large for making this badly needed addition possible. Special thanks go to Craig Smith and Quality Construction, who went way beyond the call of duty in order to complete all the requirements of the project.
To say that the Parish runs on the backs of volunteers is an understatement.  The Parish could not fulfill its mission without the work of large numbers of devoted volunteers, many of whom spend many hours each week providing a variety of services.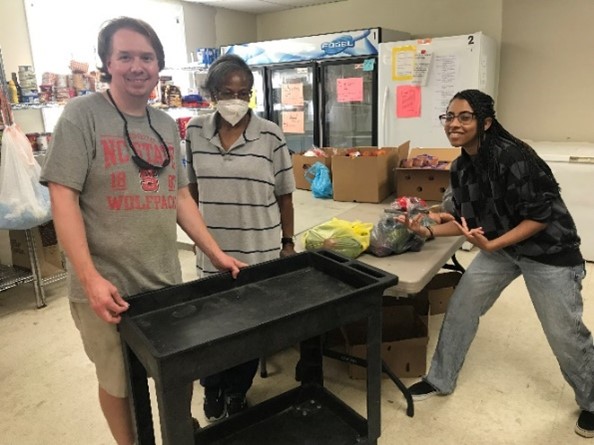 Volunteers Ann Gillispie and Alicia Colon assist Pantry Manager  Greyson Lancaster in packing food boxes. Not pictured are Allison Lancaster, Rebecca Page, Meg Stouffer, Terry Richmond, Micah Carpenter, Daniel Ray,  and Rose Woodall.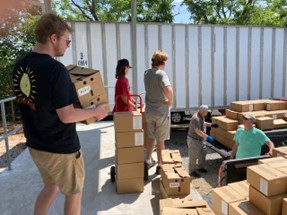 Every week dedicated volunteers meet the Second Harvest truck in the Food Lion parking lot,  transport the food to the Parish, and put it away. Carson Craig,  Colton Brewer, Bobby Brewer and Al Thompson assist Greyson Lancaster.  Not pictured  are Phil Barfield, Lan Clark, and Bob Foyle.
Folks who shop at the Two Hearts  Thrift Store can thank these  volunteers who spend  several hours each week sorting donated merchandise and placing it in the store. Shoppers appreciate the orderly and attractive displays.  .  Hats off to Terri Powell, Christa Brown, Annette McDuffie,  and Amy Woods.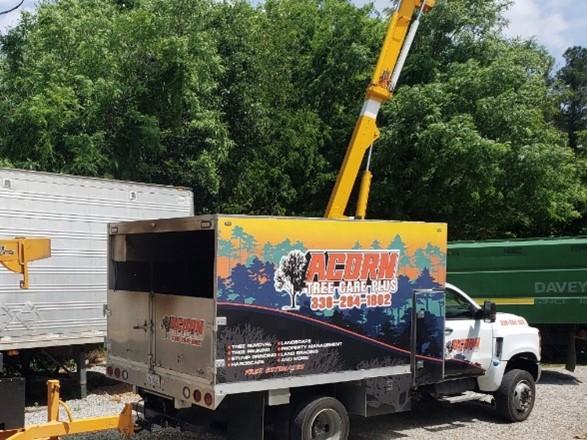 The folks at Acorn Tree Care volunteered their time and equipment to clear the overgrown area behind the new pantry addition to provide vehicle access to the storage building.
These strong volunteers put their backs to the task and moved all the coolers and freezers into the new pantry addition.  Many thanks to Lan Clark, Al Thompson, Bobby Brewer, Bart Brewer,  Carson Craig, Matthew Sidney, and Matthew Sidney,  Jr.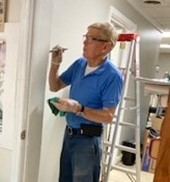 Bill Morris has spent many hours using his paintbrush to give the intake a new facelift. It is now a bright and welcoming area!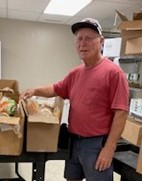 Johnny Lewis has been taking care of the Parish grounds for several years and also helps with Food Lion pickup when needed.
Food Lion Pickup Volunteers
There is no more devoted a group of volunteers than those who faithfully pick up donated food from Food Lion and put it away,  some monthly,  some twice a week.  Included in this prestigious group are Alvin and Suzanne Foster,  Al and Jane Thompson,  Greyson, and Allison Lancaster,  Rose and Jerry Woodall, Bobby Brewer, Lan Clark, Bob Foyle and Rebecca Page,  John Robinson,  Nell Page, and Johnny Lewis.
Our mission to feed the hungry could not be carried out without the generous support of the churches,  organizations,  and individuals in Caswell County who donate food each month. We are grateful for the generous support during the months of April,  May, and June 2023.
Joint Methodist Service Supports Parish
In months having a fifth Sunday, three Methodist churches have been joining together for the worship service.  The offering at the fifth Sunday service in April was designated for Caswell Parish.  Members of Bethel,  Locust Hill, and Prospect Methodist churches donated  $800 to the Parish. The Parish is very thankful for this generous gift that will be used for food purchases.
CCATS Provides Valuable Community Service
The Caswell Parish is deeply grateful to Caswell  County Area Transportation Service for delivering food to shut-ins and those with no transportation to come to the Parish to pick up an emergency food box.  Caswell County is very fortunate to have such a service!
2023 Second Quarter Food Donors
April 2023  
Brenda Bender
Anonymous
Melanie Gibson
Purley Methodist
Prospect Methodist
Browns Chapel Baptist Church
Linda Jones and Brenda Dykes
Caswell Animal Shelter
Red House Presbyterian
Griers Presbyterian
Anonymous
Southern Caswell Ruritan
Leasburg Methodist
Bethel Methodist – Park Springs Road
Anonymous
Anonymous
Anonymous
May 2023  
Donna Szenes
Anonymous
Mary Thompson
Anonymous
Judy Ann Orell
Anonymous
Susan Bishop
Anonymous
Rose Woodall
Deanna Outzs
Prospect Methodist
Karen Henderson
Annie Sue McGee
Leasburg Methodist
Anonymous
June 2023
Anonymous – 8
Christa and Stan Brown
Browns Chapel Baptist
Bethel Methodist
New Hope Methodist
Kerr's Chapel Baptist
Larry Foster
Jane Thompson
Jamie Coleman
Stoney Creek Elementary
Allison Lancaster
Purley UMC
Gwen Turner
Community Baptist
Hebron Methodist
Food Recipients – 2nd Quarter
April – 848
May – 831
June – 963
Food Costs – 2nd Quarter
April – $1843.10
May – $1505.76
June – 1990.73
OUR GENEROUS FINANCIAL SUPPORTERS
Financial contributions from our churches,  organizations, and individuals provide the backbone of support for the various Parish  missions and programs. Without the generosity  of these supporters the Parish could not meet the needs of the most vulnerable in our communities.  Listed below are the donors for the first quarter of 2022.
April 2023  
Anonymous
Anonymous
Sara and Graham Broadwell
Tracy Chandler
Larry Cowan
Robert Greear/Greear Properties
Terry and Beverly Harrelson
Mary Jo and Roger Henderson
Kim Gainey Drye McLamb
Larry Jones (Concord Christian Church guitarist)
Donna Maskill
Wayne and Barbara Owen
Pencie and Timothy Pruitt
Tony Stanley
George and Margaret Stouffer
Freda Tate
Glenda Tate
Betty Thomas and John Y Thomas,  Jr.
Beth Thompson
Gail Williams
Mary Lillie Watlington Estate
Durdana Yousuf
Community Baptist
Gospel Worship Center
Kerr's Chapel Baptist
Lively Stones Baptist
Providence Baptist
St. James Baptist
May 2023  
Anonymous
Anonymous
Sara and Graham Broadwell
Christa and Stan Brown
Geraldine Fuqua
Wanda and Wayne Hammock
Kim Gainey Drye McLamb
Larry Jones (Concord Christian guitarist)
Donna Maskill
Davinia Ryan
Benton Kay Thompson
Beth Thompson
Joe and Carole Thompson
Jan and Ben Waugh
Write A Book Foundation
Durdana Yousuf
Community Baptist
Gospel Worship Center
Lively Stones Baptist
Purley Methodist/in memory of Pauline Hatchett
St. James Baptist
June 2023
Anonymous
Anonymous
Sara and Graham Broadwell
Rose Byrne
Larry Cowan
Larry Jones (Concord Christian guitarist)
Kim Gainey Drye McLamb
Donna Maskill
Mary Jane Richmond
Benton Kay Thompson
Beth Thompson
Jeremy and Allison Thompson/honoring Gwen Monteith on her 100th birthday
Gina Watlington
Community Baptist
Gospel Worship Center
New Hope-Purley Charge/honoring David and Sue Harvin
New Hope-Purley Charge/remembering Kenneth Rowland and honoring Pat Rowland
Leasburg Methodist Women/honoring James Coleman
Purley Methodist
St. James Baptist
Food Pick-up/Distribution –Rebecca Page and Bob Foyle, Allison and Greyson Lancaster, Lan Clark, Al and Jane Thompson, Alvin and Suzanne Foster,  Phil Barfield, Rocky Ashby,  Ann Gillispie, Micah Carpenter, Bobby and Bonnie Brewer, JR Robinson, Nell Page, Carson and Kelsey Craig, Johnny Lewis, Kelsie Hooper, BETA members: Natalie Simmons and Amy Ware, Alicia Colon
Data Entry – Rose Woodall
Administration/Grant Writing – JaneThompson, Nell Page
Thrift Store – Amy Woods, Terri Powell, Annette McDuffie, Christa Brown, Susan Meadows, Will Crumpton, Rodney Walker, Patti and Johnny Woods, Cindy Downs
Technical/Web Support – Stacy Matkins, Cliff Matkins, Linda Watlington – Scott and Watlington
Grounds Care- Johnny Lewis 
For I was hungry and you gave me something to eat,I was thirsty and you gave me something to drink, I was a stranger and you invited me in, I needed clothes and you clothed me, I was sick and you looked after me,I was in prison and you came to visit me.' "Then the righteous will answer him,'Lord, when did we see you hungry and feed you,or thirsty and give you something to drink? When did we see you a stranger and invite you in, or needing clothes and clothe you? When did we see you sick or in prison and go to visit you?' "The King will reply, 'Truly I tell you, whatever you did for one of the least of these brothers and sisters of mine, you did for me.'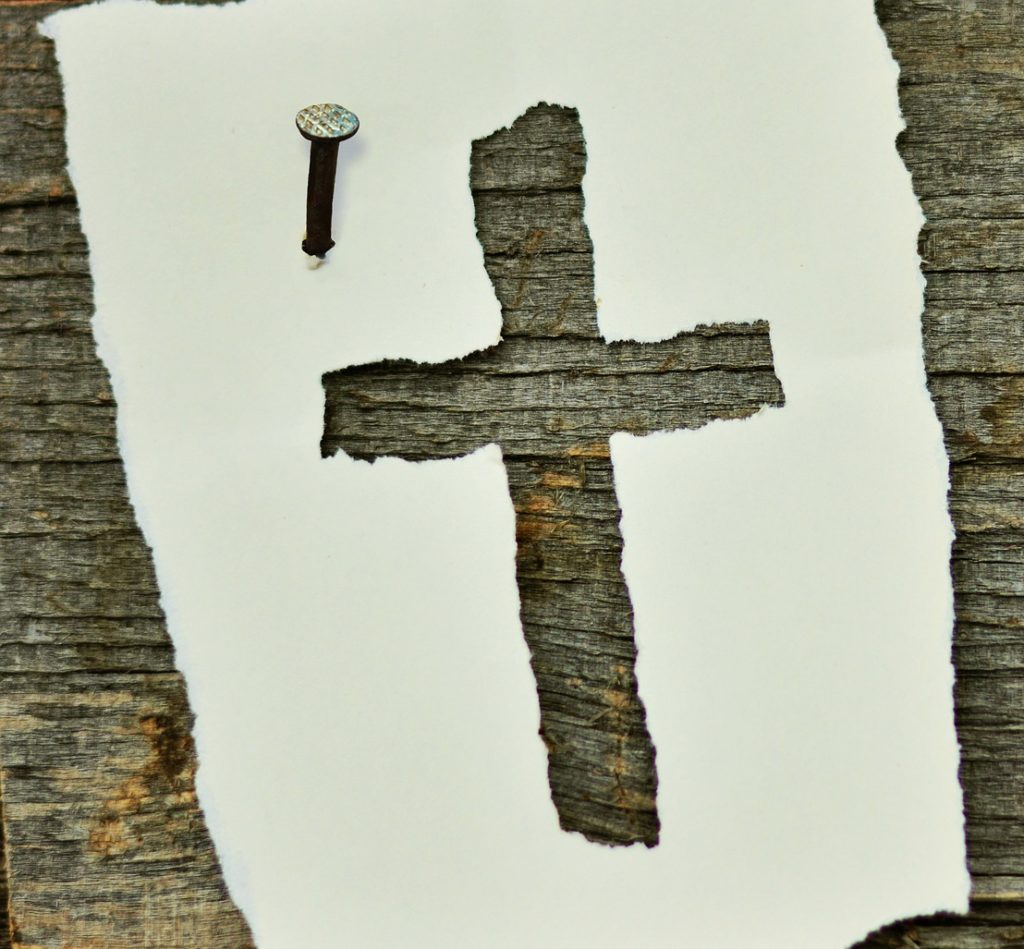 Parish Board Members:
Geraldine Fuqua, Chair
Ann Gillespie
Claude Walker
Amy Woods
Terri Powell
Nell Page
Jane Thompson
Allison Lancaster
Annette McDuffie
JR Robinson
Austin Meadows
Annie Sue McGee
Ethel Gwynn
Allison Lancaster
Rocky Ashby
Christa Brown
Lan Clark