A Quarterly Newsletter From the Caswell County Parish
"Alone we can do so little.  Together we can do so much."   Helen Keller
CASWELL PARISH RECEIVES B.R. ASHBY,  MD,  AWARD FOR OUTSTANDING COMMUNITY SERVICE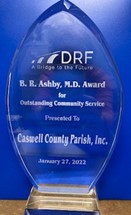 January 27 was a great day for  Caswell Parish because on that day the Danville Regional Foundation announced to the public that the Parish had  been chosen to received the Ashby Award for 2022. This award carries with it a $50,000  general operating grant.  The Ashby is awarded annually to one non-profit that operates in Pittsylvania County,  Danville, or Caswell County.  This is the second time the Parish has received this award.  It was the first non-profit to be so honored in 2010.  The money at that time was used to make the needed repairs and upgrades to enable the Parish to inhabit its current site.  The 2022 award will  be used to expand the pantry space in order to make possible more food storage. 
The Parish is deeply honored,  grateful,  and humbled to have received this award.  We shall endeavor to be good stewards of the funds entrusted to us.
PLANS MOVE FORWARD FOR  ADDITION TO PANTRY
The Parish has been in need of additional  food storage space for a long time,  especially space in which to place more coolers.  We have often have  to turn down perishable food from Second Harvest because we have inadequate cooler space.  In the existing space there is no room for another cooler nor adequate electrical service to support one even if there were room.
Two recent awards have now made it  possible for the Parish to move forward with plans for the addition.  The Ashby Award (see article on this page)  and a grant awarded by the Cannon Foundation, plus some monies from our general fund,   have enabled the Parish to come up with the needed money.   The addition will join the current building on the back side.  The architectural firm of Dewberry  is drawing the final plans and Quality Construction will handle the building project.  It is hoped that the project will be completed by the end of this year.
The Parish is very grateful to the foundations that have made this project possible.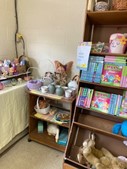 SPRNG HAS SPRUNG AT THE TWO HEARTS THRIFT STORE!
A wide variety of spring clothing as well as Easter merchandise is now available at the Parish thrift store Monday, Wednesday and Friday.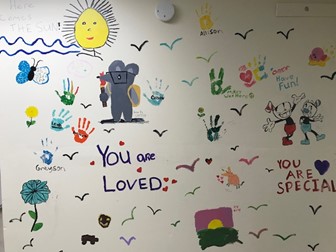 Many thanks to the youth of Prospect Methodist Church,  under the leadership of pastor Allison Lancaster,  who transformed a dingy wall in the Parish pantry area  into a happy place.  We hope this will be the beginning of more wall painting and decorating!
THE RIGHT CHOICE continues its support for community service by presenting a check for $400 to  Caswell Parish.  THE RIGHT CHOICE is a driving class for first offenders who wish  to clear their record and learn about highway safety.  Ollie Jeffers, coordinator for the program in Caswell and Person counties,  presents the check to Nell Page, volunteer co-director for the Parish.  Accompanying her are First Sergeant Ben Fleetwood,  Sergeant Austin Lucas,  and administrative specialist,   Melissa Rigg.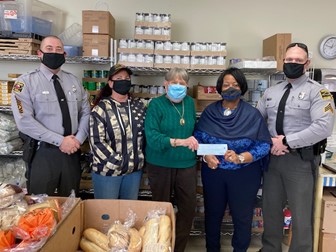 GRANTS and DONORS SUPPORT PARISH MISSION
The Community Foundation of the Dan River Region is a faithful supporter  Caswell Parish.  For the past several years it has awarded a grant to the Parish to help families who are in danger of losing their electrical service or who have no funds with which to purchase heating fuel. The generous $25,000 grant will provide utility assistance to approximately 100 families.
Prospect Methodist Church obtained a grant for the purpose of purchasing fresh produce  and has designated the Parish as the agency to add produce to the food it distributes to families.  Fresh produce will be purchased weekly during the garden season.
The PCC honor society,  Phi Theta Kappa, received $3,000  after placing third in a food drive competition. They have been generous with their prize in sharing $500 with the Caswell Parish.
SAVE THE DATE for CASWELL PARISH GOLF TOURNAMENT
The fifth annual Parish benefit  tournament, Golfing for Others,  will be held on Wednesday,   October 5, 2022.   Make plans to join us in supporting the mission of Caswell Parish.
PACKAGES FOR UKRAINE REFUGEES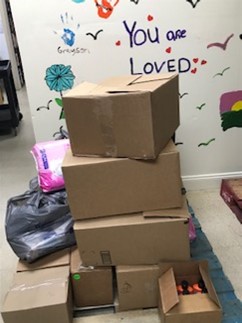 Five loads of badly needed items have been sent from Caswell County to a Ukrainian congregation in Greensboro  that is responsible for shipping the merchandise to Ukrainian refugees.  Winter clothing from the Parish Two Hearts Thrift Store and from local citizens,  as well as  medical and hygiene items,  are hopefully now on their way overseas.
Our mission to feed the hungry could not be carried out without the generous support of  the churches,  organizations,  and individuals in Caswell County who donate food each month.  We are grateful for the generous support during the months of  October,  November and December.  Families are eligible to receive food once monthly. Food comes from several sources: daily donations from Food Lion,  food purchased from Second Harvest of NWNC (primarily for shipping costs of donated food),  food purchased from local retailers and farmers,  and food donated by churches, civic groups, scouts, and individuals.
January 2022 – Bart Brewer, Griers Presbyterian, Wayne and Wanda Hammock, Jennifer from dog shelter, Leasburg UMC, Melissa Mimms, Purley Methodist, Rogers Family, Gordon Satterfield, Sharon Smith, Franny Wrenn
February 2022 – Jessica Andriola, Anonymous, Anonymous, Bethel Methodist, Tonya and John Delargy, Ann Gillispie, Hebron Methodist, Leasburg Methodist, Nancy, Prospect Methodist, Purley Methodist, Al and Jane Thompson, Benton Kay Thompson
March 20212 – Allen's Chapel Baptist, Jessica A, Anonymous, Bart Brewer, Bonnie and Bobby Brewer, Bonnie from NJ, Stan and Christa Brown, Camp Springs UMC West, Boy Scout Pack 396/Southern Caswell Ruritan, Rhonda Hamlett, Jelly Jones, Kerr's Chapel, Amanda Korn, Annie Sue McGee, Pleasant Grover Presbyterian, Prospect UMC, Purley UMC, Red House Presbyterian, Stoney Creek BETA Club, Benton Kay Thompson, Claude Walker, Ms. Wimple
Many thanks to the Stoney Creek  Beta Club members who organized and supervised a very successful food drive.  The school donated 1000 food items to the Parish food pantry.
Food Recipients – 1st Quarter
January – 636
February – 593
March – 647
Food Costs – 1st Quarter
January – $1361.82
February – $2117.68
March – $2027.13
OUR GENEROUS FINANCIAL SUPPORTERS
Financial contributions from our churches,  organizations, and individuals provide the backbone of support for the various Parish  missions and programs. Without the generosity  of these supporters the Parish could not meet the needs of the most vulnerable in our communities.  Listed below are the donors for the first quarter of 2022.
January 2022 –Anonymous, Sara and Graham Broadwell, Annice Davis,Kim Gainey Drye, Larry Jones – Concord Christian, Larry and Beatrice Lea, Donna Maskill, George and Margaret Stouffer, Betty and John Y.  Thomas,  Jr., Beth Thompson, Durdana Yousuf, Baynes Baptist, Blackbaud Giving Fund, Community  Baptist, Concord Christian, Hamer Missionary  Baptist, Lively Stones Baptist, Locust Hill Methodist, Milton Methodist, Red House Presbyterian Hunger Fund, The Right Choice – driver safety program, St. James Baptist
February 2022 – Anonymous, Bobby and Bonnie Brewer, Kim Gainey Drye, James W. Faucett, Robert Greear, A C Hodges, Larry Jones, Donna Maskill, Tony Stanley, Beth Thompson, Joann Watkins, Durdana Yousuf, Caswell Pines Golf Course, Lively Stones Baptist, New Hope Methodist, St. James Baptist
March 2022 – Anonymous, Mary Jo and Gary Blevins, Sara and Graham Broadwell, AC Hodges, Larry Jones, Kim Gainey Drye McLamb, Donna Maskill, Brenda Runyan, Beth Thompson, Joe and Carole Thompson, Joann Watkins, Durdana Yousuf, Community Baptist, Griers Presbyterian, Kerr's Chapel Baptist, Lively Stone Baptist Church, Phi Theta Kappa – PCC, Pleasant Grove Church, St. James Baptist Church
Food Pick-up/Distribution –Rebecca Page and Bob Foyle, Allison and Greyson Lancaster, Arlandia Clark, Al and Jane Thompson, Alvin and Suzanne Foster, Jessica Shumaker, Phil Barfield, Rocky Ashby, Gordon Satterfield, Leigh Henderson, Sheryl Smith, Ann Gillispie, Meg Stouffer, Daniel Ray and Micah Carpenter, Ernest Watkins
Data Entry – Jane Thompson, Nell Page, Allison Lancaster, Cathy Long and Mary Jo Henderson
Administration/Grant Writing – JaneThompson, Nell Page
Thrift Store – Amy Woods, Terri Powell, Annette McDuffie, Christa and Stan Brown, Brandy Dunkley and children, Deborah and Russ Messinger, Al Thompson,  Rocky Ashby,  Rick Mishue
Technical/Web Support – Stacy Matkins, Cliff Matkins, Linda Watlington – Scott and Watlington
Grounds Care- Johnny Lewis, Al Thompson, Rocky Ashby
For I was hungry and you gave me something to eat,I was thirsty and you gave me something to drink, I was a stranger and you invited me in, I needed clothes and you clothed me, I was sick and you looked after me,I was in prison and you came to visit me.' "Then the righteous will answer him,'Lord, when did we see you hungry and feed you,or thirsty and give you something to drink? When did we see you a stranger and invite you in, or needing clothes and clothe you? When did we see you sick or in prison and go to visit you?' "The King will reply, 'Truly I tell you, whatever you did for one of the least of these brothers and sisters of mine, you did for me.'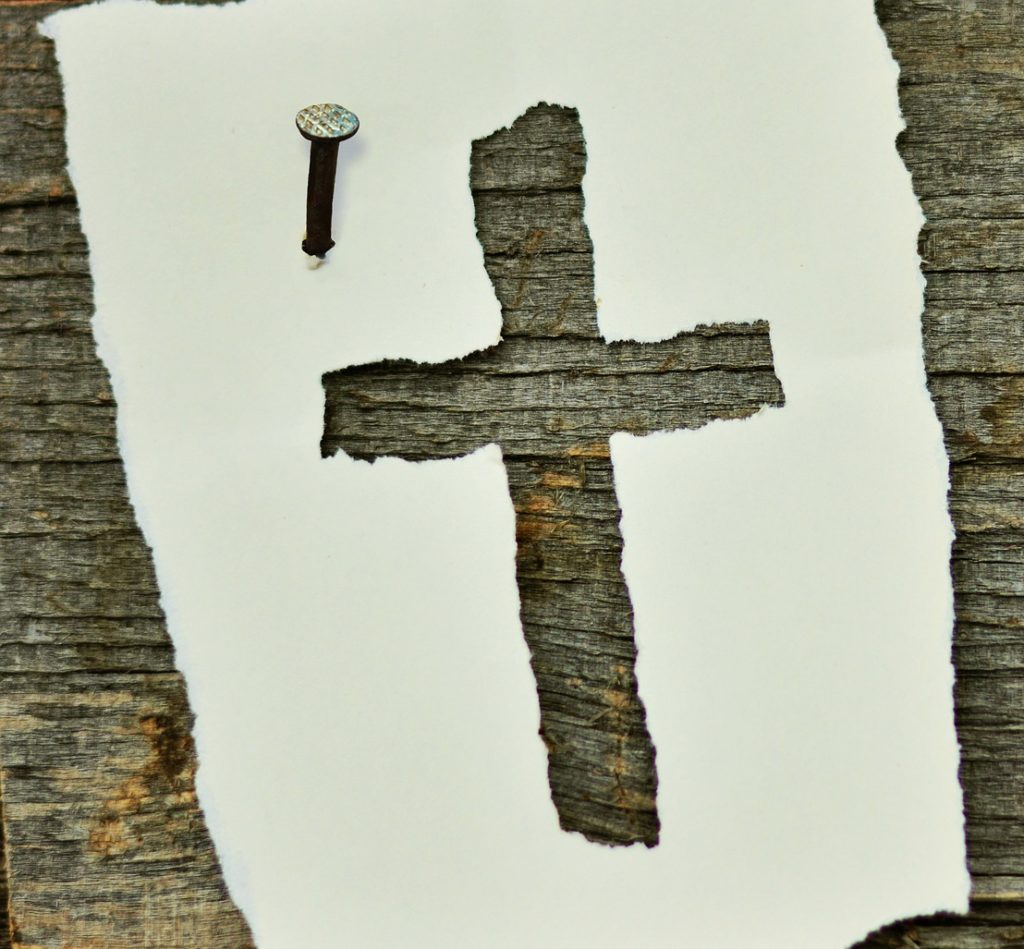 Parish Board Members:
Geraldine Fuqua, Chair
Ann Gillespie
Claude Walker
Amy Woods
Susan Merritt
Nell Page
Jane Thompson
Nancy Wrenn
Annette McDuffie
JR Robinson
Sheryl Smith
Annie Sue McGee
Ethyl Gwynn
Debbie Rascoe
Allison Lancaster
Rocky Ashby
Christa Brown
Lan Clark